How to Easily Manage and Organize Your Digital Photos
Whether you're a budding photographer, avid Instagramer or just love the camera on your smartphone, chances are you have more photos than you know what to do with. But the experts at TechnologyGuide have put together an easy to follow guide on how to organize the masses of images users have stored on their devices.
First thing's first, taking time to organize images when they are first imported can save tons of time later. When importing, TG suggests making sure to tag photos, create a consistent naming convention and rate photos. It's also important to delete all the junk images when first uploading; it will save both space and time. When it comes to naming photos, TG suggests including the date and event in the file name to make searching for the image easier later down the road. Use tags to be more specific and when using the date, always put the year first.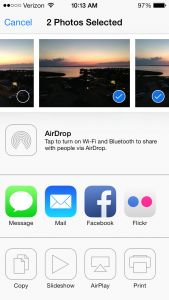 Importing smartphone images can be harder because users don't tend to sit down at the end of a day and upload images. When taking pictures on a smartphone, make sure the geo-tagging feature is activated to make searching by location quick and easy.
When importing images it's key to have a good program to upload the images to. Whether users have a Mac or a PC, they likely already have an image program built into the notebook. Mac desktops and notebooks come with iPhoto preinstalled, while Windows machines come with Microsoft Windows Photo Gallery. Both programs make organizing photos easy and include basic editing features. TG also suggests Picasa as a third option. Owned by Google, its available for free on both Macs and PCs. The software includes both the categorization and editing features of iPhoto and Photo Gallery and allows anyone with a Google account to share and store up to 1GB of photos, while users with a Google+ account can store unlimited photos.
Importing photos to reliable software isn't enough. TG reminds users it's crucial to back up images in case anything ever happens to their computer. An external hard drive it one option, but TG suggest uploading images to a CD or DVD. Another option is to store images in the cloud through services like iCloud or Google Drive, but most don't offer unlimited storage, at least not for free.
Want to learn more? Head over to DigitalCameraReview's sister site TechnologyGuide for tips and tricks on managing and organizing your photos.