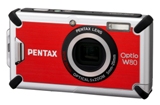 The rugged Pentax Optio W80 is waterproof up to 16 feet underwater, freezeproof to 14 degrees Fahrenheit, and shockproof up to a 3.3 foot drop. It also features a 12.1 megapixel sensor, 5x optical zoom, and 720p HD video recording.
Read Our Full Review: Canon Powershot A95 Digital Camera Review
Sorry pricing for this product is not found. Here is pricing on some similar products.
POWERED BY: