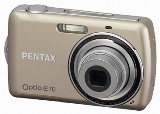 The Pentax Optio is a compact with triple anti-shake technology, face recognition, and a 2.5 inch LCD.
Pros

Easy to operate
Large buttons
Good battery life

Cons

Limited manual control
Slow operation
Noise at ISO 400
Read Our Full Review: Pentax Optio E70 Review
Sorry pricing for this product is not found. Here is pricing on some similar products.
POWERED BY: