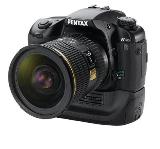 The Pentax K20D features a newly developed CMOS image sensor offering 14.6 effective megapixels, noise-reduction technology, 4x or 8x zoom option, as well as a weather and dust resistant body.
Read Our Full Review: Pentax K20D Review
Sorry pricing for this product is not found. Here is pricing on some similar products.
POWERED BY: