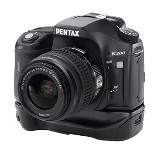 The K200D is equipped with 10.2 megapixels and a 2.7 inch wide view LCD.
Pros

Solid AF performance for an entry-level cam
Good battery life with the right cells
Rugged, all-weather construction
High-quality kit lens

Cons

Menus awkward at times
Heavy and large for a consumer cam
ISO 1600 a bit weak
Continuous shooting still slow
Read Our Full Review: Pentax K200D Review
Sorry pricing for this product is not found. Here is pricing on some similar products.
POWERED BY: