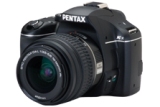 The Pentax K-x is an entry-level DSLR featuring a 2.7 inch LCD, a 12.4 megapixel CMOS sensor, 11-point autofocus system, and expanded ISO range of 100-12800. The system is powered by AA batteries.
Pros

Great image quality
Good at higher ISO
Competitive price

Cons

Drains AA batteries
Some noise in HD video
Slow AF in Live View
Read Our Full Review: Pentax K-x Review
Sorry pricing for this product is not found. Here is pricing on some similar products.
POWERED BY: