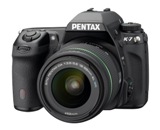 The Pentax K-7 features a rugged body design with a 14.6 megapixel CMOS sensor capable of HD Movie Capture and a range of unique-to-Pentax camera controls. TIt's designed for advanced photographers seeking high-end design and features without the cost of a professional DSLR system with similar features.
Pros

Great image quality
Fastest Pentax yet
In-camera editing tools

Cons

Slow Live View AF
Short grip surface
In-camera editing slow
Read Our Full Review: Pentax K-7 Review
Sorry pricing for this product is not found. Here is pricing on some similar products.
POWERED BY: