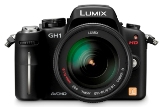 The Lumix GH1 is a micro four-thirds SLR with a 12.1 megapixel Live MOS sensor. It builds on the model of its predecessor, the G1, by adding 1080p HD video recording.
Pros

Exellent 1080p video
Articulated Live View LCD
Great kit lens

Cons

Expensive
Fewer lenses available
Not a true DSLR
Read Our Full Review: Panasonic Lumix DMC-GH1 Review
Sorry pricing for this product is not found. Here is pricing on some similar products.
POWERED BY: