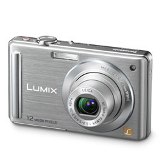 The Panasonic Lumix FS25 is a 12.1 megapixel camera with a 3.0 inch LCD, optical image stabilization, face detection technology, and automatic shooting modes.
Pros

Easy to use
Stylish and sleek
Good for travel

Cons

Unpredictable results
AF too slow
Poor at high ISO
Read Our Full Review: Panasonic Lumix DMC-FS25 Review
Sorry pricing for this product is not found. Here is pricing on some similar products.

POWERED BY: