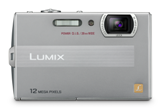 The Panasonic Lumix DMC-FP8 is an ultra-slim 12.1 megapixel point-and-shoot featuring 720p HD video recording capability, a 2.7 inch LCD, 28mm wide angle lens with 4.6x optical zoom range, and iA intelligent Auto exposure mode.
Pros

Fast AF
Very good shutter lag
Nice image quality

Cons

Noise at ISO 400
Limited flash range
LCD blackout in burst mode
Read Our Full Review: Panasonic Lumix DMC-FP8 Review
Sorry pricing for this product is not found. Here is pricing on some similar products.

POWERED BY: