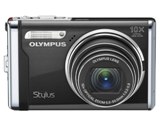 The Olympus Stylus is equipped with a 12.0 megapixel sensor, a 10x optical zoom lens, dual image stabilization, automatic scene recognition mode, and in-camera panorama shooting.
Pros

Reliable auto exposure
Great zoom power
Good color reproduction

Cons

Poor at high ISO
Uses xD memory card
Few manual controls
Read Our Full Review: Olympus Stylus-9000 Review
Sorry pricing for this product is not found. Here is pricing on some similar products.
POWERED BY: