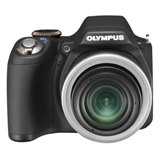 The Olympus SP-590 UZ features a powerful 26x optical zoom lens, 2.7 inch LCD, HD output, dual image stabilization and advanced face detection.
Pros

Large lens range
Fast shutter times
Good image quality

Cons

Low battery life
Inconsistent AF
Digital IS
Read Our Full Review: Olympus SP-590 UZ Review
Sorry pricing for this product is not found. Here is pricing on some similar products.

POWERED BY: