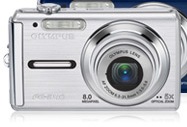 The FE-340 is an 8 megapixel digital camera with 5x zoom lens, high ISO sensitivity, and Olympus' Smile Shot.
Pros

Solid metal body with nice styling
Plenty of resolution in LCD
Nice lens
Easy to use

Cons

Average image quality
Average overall performance
Smeared flash shots, and noise/noise reduction in general
Read Our Full Review: Olympus FE-340 Review
Sorry pricing for this product is not found. Here is pricing on some similar products.

POWERED BY: