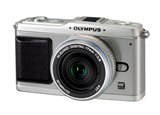 The Olympus E-P1, or Digital Pen, is a retro-inspired Micro Four Thirds interchangable lens camera. It features a 12.3 megapixel Live MOS sensor, 3.0 inch LCD, TruePic Image V processor, and 720p HD video recording.
Pros

Excellent image quality
Cool art filters
Tough, retro design

Cons

Slow AF performance
Slow in art filter modes
Detail lost at high ISO
Read Our Full Review: Olympus E-P1 Review
Sorry pricing for this product is not found. Here is pricing on some similar products.
POWERED BY: