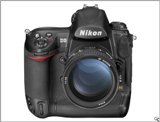 A Nikon-original 12.1-megapixel FX-format (23.9 x 36mm) CMOS sensor, in concert with Nikon's exclusive digital image processing system, delivers breathtakingly rich image quality, while continuously shooting at up to 9 frames per second at full FX resolution and up to 11fps inthe DX Crop mode.
Read Our Full Review: Nikon D3 Review
Sorry pricing for this product is not found. Here is pricing on some similar products.

POWERED BY: