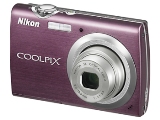 The Nikon CoolPix S230 features a 10.0 megapixel sensor, 4x optical zoom, and a 3.0″ touch screen.
Pros

Warm, generally neutral colors
Flashy 3.0 inch touch screen
Attractive build and design
Reliably speedy performance

Cons

Images are noisy from low ISOs on up
Some corner softness and fringing in shots
Only packs a 3x zoom
Some weirdness with the Scene Auto Selector
Quick Take
When the sun goes down, though image quality declines and the flash becomes a necessity. Aside from that, the 3.0 inch display brought some flair to an otherwise basic point-and-shoot.
Read Our Full Review: Nikon Coolpix S230 Review