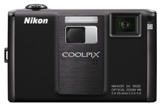 The Nikon Coolpix S1000pj is combination digital camera and photo projector capable of displaying images and videos at up to 40 inches. It boasts a 12.1 megapixel sensor, 5x optical zoom lens and a 2.7 inch LCD.
Pros

Minimal distortions
Sharp lens
Good images overall

Cons

Noise at ISO 400
Poor video quality
Cost
Quick Take
The Nikon S1000pj puts a projector where no projector has gone before. Image quality is okay; video is lagging. The projector is a crowd-pleaser.
Read Our Full Review: Nikon Coolpix S1000pj Review
Sorry pricing for this product is not found. Here is pricing on some similar products.

POWERED BY: