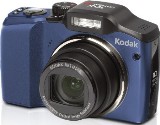 The Kodak EasyShare Z915 features a 2.5 inch LCD, Kodak's integrated smart capture feature, some manual shooting controls, and is powered by AA batteries.
Pros

Affordable
Sharp, colorful images
Stylish camera body

Cons

Slower AF
Unimpressive lens
Small, glare-prone LCD
Read Our Full Review: Kodak EasyShare Z915 Review
Sorry pricing for this product is not found. Here is pricing on some similar products.
POWERED BY: