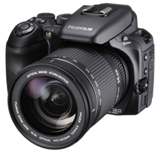 The FujiFilm FinePix S200EXR brings Fuji's Super CCD EXR sensor technology into the ultrazoom category. The 14.3x optical zoom FinePix S200EXR features a DSLR-like build and a 12 megapixel Super CCD EXR sensor. The S200EXR is also equipped with three EXR sensor modes, dual image stabilization, film simulation shooting modes, and a high contrast 2.7 inch LCD.
Pros

Great ISO performance
RAW capability
Very good image quality

Cons

Cost
Lower-res video
Low zoom range for class
Read Our Full Review: Fujifilm FinePix S200EXR Review
Sorry pricing for this product is not found. Here is pricing on some similar products.
POWERED BY: