Fujifilm FinePix Real 3D W1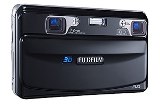 The Fujifilm FinePix Real 3D W1 is a camera specially designed to capture digital "3D" stereoscopic images and videos. By utilizing two 3x optical Fujinon lenses, two images are recorded simultaneously and layered to create a 3D effect visible without the use of 3D glasses. These images can be viewed in three dimensions on the camera's LCD or the FinePix Real 3D V1 digital viewer, a digital picture frame sold separately from the camera.
Read Our Full Review: Samsung Digimax V700 Digital Camera Review
Sorry pricing for this product is not found. Here is pricing on some similar products.
POWERED BY: