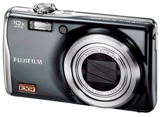 The FujiFilm FinePix F70EXR features a 10 megapixel Super CCD EXR sensor and a 10x optical zoom lens. Though it boasts a big zoom range, it's pocketable at 22.7mm thick. Other features include a 2.7 inch high contrast LCD, Pro-Focus and Pro Low Light modes, three EXR sensor modes, dual image stabilization and intelligent flash function.
Pros

10x zoom
Great image quality
Flexible shooting options

Cons

Some modes only 5MP
No RAW shooting
Slower AF in low light
Read Our Full Review: Fujifilm FinePix F70EXR Review
Sorry pricing for this product is not found. Here is pricing on some similar products.

POWERED BY: