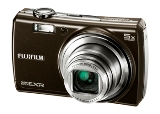 The FinePix F200EXR is the first compact camera equipped with Fujifilm's latest sensor technology. The Super CCD EXR sensor is designed to capture high-quality images in low-light shooting situations. Features include three different capture modes, a large 3.0 inch LCD, and a 5x Fujinon zoom lens.
Pros

Trail-blazing EXR sensor technology
Dynamic range never seen before in this class
Very little noise through ISO range
Easy operation
Film simulation modes work quite well

Cons

No HD video capture
Noisy operation
Telephoto length images show distortion and soft edges
Spotty image stabilization system
Read Our Full Review: Fujifilm FinePix F200EXR Review
Sorry pricing for this product is not found. Here is pricing on some similar products.
POWERED BY: