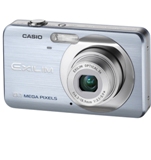 The Exilim EX-Z80 is an 8.1 megapixel digital camera with 3x optical zoom, 2.6 LCD screen and face detection.
Pros

Image, color and build quality on a par with competition
Good range of image adjustments for an auto camera

Cons

Monitor dot composition about half of most competitors
Stabilization via ISO boost
Read Our Full Review: Casio Exilim EX-Z80 Review
Sorry pricing for this product is not found. Here is pricing on some similar products.
POWERED BY: