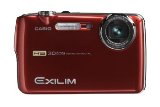 The Casio Exilim FS10, comparable in size to a playing card, features a 9.1 megapixel CMOS sensor and 30 fps shooting. It measures 3.8 x 2.3 x .64 inches.
Pros

High speed video
Fast burst rate
HD video

Cons

Short battery life
Poor in low light
Limited zoom
Read Our Full Review: Casio Exilim EX-FS10 Review
Sorry pricing for this product is not found. Here is pricing on some similar products.

POWERED BY: