Canon PowerShot SD1200 IS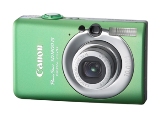 The PowerShot SD1200 is a point-and-shoot with a 2.5 inch LCD, Canon's DIGIC IV processor, and optical image stabilization.
Pros

Small and sleek
Great AF performance
Good at high ISO

Cons

Tiny viewfinder
Tricky interface
LCD smudges easily
Read Our Full Review: Canon PowerShot SD1200 IS Review
Sorry pricing for this product is not found. Here is pricing on some similar products.

POWERED BY: